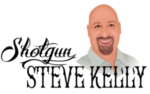 Shotgun Steve Kelly
Shotgun loves to golf, concerts, bowling, and sporting events!
Shotgun is a 30-year radio veteran with stops in Kansas, Missouri, Oklahoma, Arkansas, Iowa, and Georgia. But is thrilled to be back in Kansas and close to family and friends in Kansas City.
Shotgun is a HUGE Kansas City Chiefs and Kansas City Royals fan and when it comes to college sports he cheers for the Jayhawks and OSU Cowboys.
Some of Shotgun Steve Kelly's favorite artists include Garth Brooks, Chris Ledoux, Jason Aldean, Midland, Miranda Lambert, and Carrie Underwood.