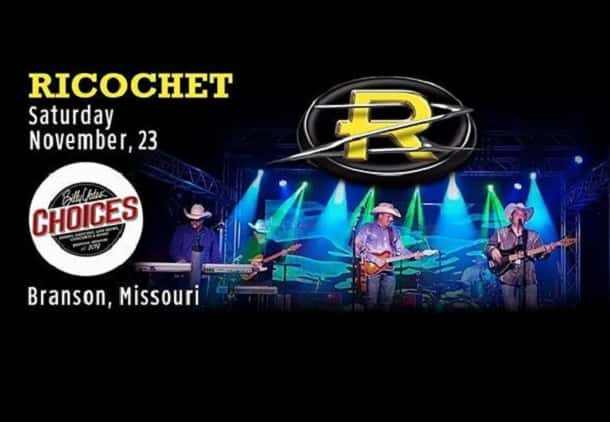 Ricochet Band Press
Don't miss your chance to see Ricochet live in concert for their one big show at Billy Yates' Choices Concert Hall in Branson on Saturday, November 23rd. More info below on this one-night only performance.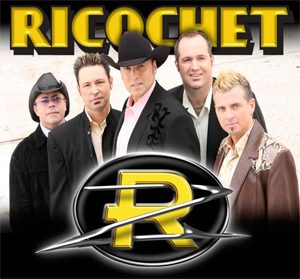 Press Release from Billy Yates' Choices Concert Hall
Ricochet is on their way to Branson! For one night only, you can experience this incredible country band live at Billy Yates' Choices Concert Hall, a fantastic new venue that allows an up-close-and-personal experience for every concert. Ricochet will be sharing a lot of great music, including their Top 20 hits, "He Left a Lot to Be Desired" and "Ease My Troubled Mind," their Top 10 hits, "Love Is Stronger Than Pride" and "What Do I Know," and their unforgettable chart-topper, "Daddy's Money."

When this hot band introduced themselves to the world of country music, they did it with a bang by releasing the self-titled, "Ricochet," an album that produced three straight Top 10 hits and received a Gold Record award. The Academy of Country Music (ACM) awarded them Top New Vocal Group, Billboard Magazine recognized them as the Top New Country Artist, and they received a Country Weekly Golden Pick Award for Favorite New Group or Duo. Ricochet has appeared on television programs that range from awards programs like the Country Music Association and the ACM, to an envied spot performing on The Tonight Show, as well as playing the revered Grand Ole Opry.

Ricochet will be appearing for one night only at Billy Yates' Choices Concert Hall in Branson. Choices is located at 440 State Highway 248, just off the junction of Highways 65 and 248. (There's a Rapid Roberts right in front of the building and a large bluff rising behind it.) Ricochet will perform on Saturday, November 23, 2019 at 7:30 p.m.

The Concert Hall is in a large renovated building that was once home to several popular nightclubs over the past 25 years, including Guitars & Cadillacs and Planet Branson, and features individual chair seating, allowing for flexible space and an excellent up-close-and-personal live music show experience for everyone.

Billy Yates' Choices Concert Hall has a rare feature for a Branson venue – a huge dance floor! You'll also find the venue adorned with music memorabilia and offering a full service restaurant and bar. The Concert Hall is also the year-round home for Billy Yates' Hit Songwriters in the Round and Nashville Nights. The list of limited-engagement concerts at Choices this season includes artists like Gary Morris, Tim Rushlow (of Little Texas fame,) and T. Graham Brown.

Billy Yates is honoring his promise to bring some of country music's most treasured artists to his Choices Concert Hall, giving Branson a fabulous new venue for live shows, and everyone who loves good music a great place to enjoy a more intimate concert experience. It you haven't yet been to Choices, you have the opportunity to plan your first visit for November 23, that's when the only country artist to ever put a recording of the National Anthem on the music charts will hit the stage, the one-and-only Ricochet!