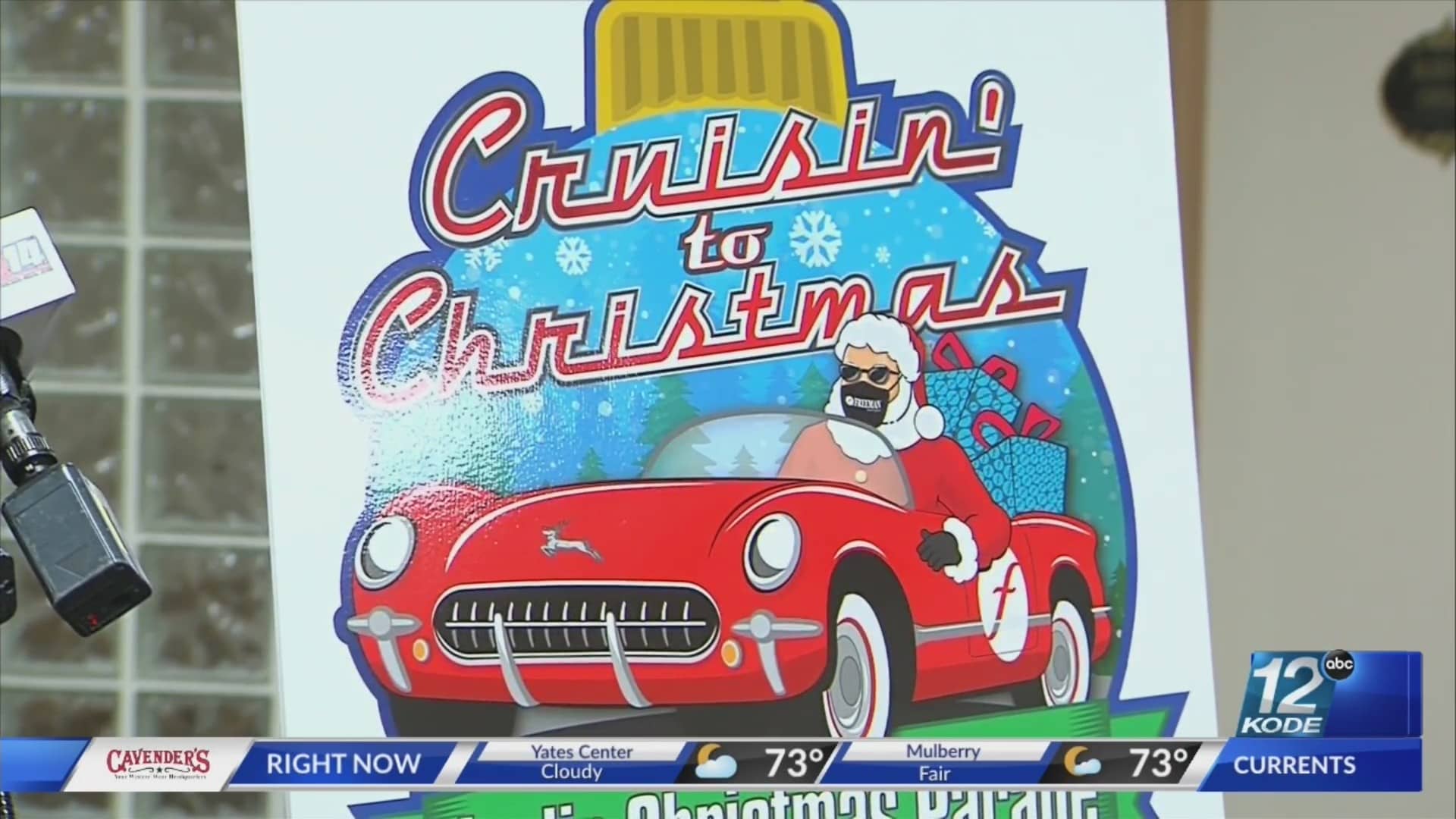 We are so pleased to announce we are getting our Christmas Parade on December 1st. This year the 50th annual Christmas Parade that Joplin, MO Christmas Parade hosts, will be a "reverse parade" with the theme being "Cruising Christmas!" This parade is going to be unique and fun! The floats will line Main Street, and spectators will get to drive by. It's exciting and fun to know COVID-19 didn't cancel Christmas. The city is working out a few details, but we will update you as we get more information. We have the complete details regarding the parade below with the link to sign up and enjoy this Joplin holiday tradition.
News Release

For immediate release: November 9, 2020

Freeman Announces Theme of 2020 Joplin Christmas Parade
Volunteers Receive Permit to Organize Annual Event

Joplin, Mo. – Freeman Health System seeks entries for the 50th Annual Joplin Christmas Parade. In a news conference held Monday, November 9, at Joplin City Hall, Ryan Stanley, City of Joplin Mayor, presented a 2020 Joplin Christmas Parade permit to Paula F. Baker, Freeman President and Chief Executive Officer.
"We're honored the City of Joplin has chosen Freeman Health System to manage the parade for the seventh year in a row," said Baker. "It takes hundreds of volunteer hours and many dedicated hearts to orchestrate a celebration of this magnitude—Freeman Health System embraces this challenge because it's our way of giving back to the community that has supported us for more than 95 years."

Together Baker and Ryan revealed the logo and theme for this year's parade: "Cruisin' to Christmas." The theme reflects a twist on the traditional parade format. In order to allow for social distancing and a pandemic-safe parade, this year citizens will drive down Main Street viewing floats and entries that line the sides of the street. No candy or handouts will be permitted.
Funds generated by the 2020 Joplin Christmas Parade will go to Children's Miracle Network Hospitals®, which provides assistance to children from birth to 21 years of age in a 14-county area in Missouri, Kansas and Oklahoma. All money raised stays local, helping children with medical needs and their families. Children's Miracle Network Hospitals helps furnish and maintain Freeman Neonatal Intensive Care Unit, provides funding for local community organizations' pediatric needs and provides pediatric emergency equipment for area agencies.

Freeman staff members have already started planning the parade. The parade will take place from 6:00 pm – 8:00 pm Tuesday, December 1. The parade route starts with drivers entering at 20th and Main, and floats and entertainers will appear on the sides of the street from 15th north to Third Street. Santa still arrives at the end of the parade route, and he will wave at kids as they roll by Spiva Park in the comfort of their cars and trucks.

Entry fees are $50 For-Profit Organizations, $15 non-profit organizations, schools and bands are free. Spaces are limited and the last day to register is November 18. For more information about placing an entry in the 2020 Joplin Christmas Parade, call 417.347.3962 or email joplinchristmasparade@freemanhealth.com.
Event information is also available at https://2020joplinchristmasparade.eventbrite.com
Facebook "live" Christmas Parade Announcement
Tags: